60,000+ trails. 10 million explorers. Endless memories.
The beauty of nature doesn't need to be hard to find. Our goal is simple - build the largest collection of hand-curated trail guides, so you can explore the outdoors with confidence. Anytime. Anywhere.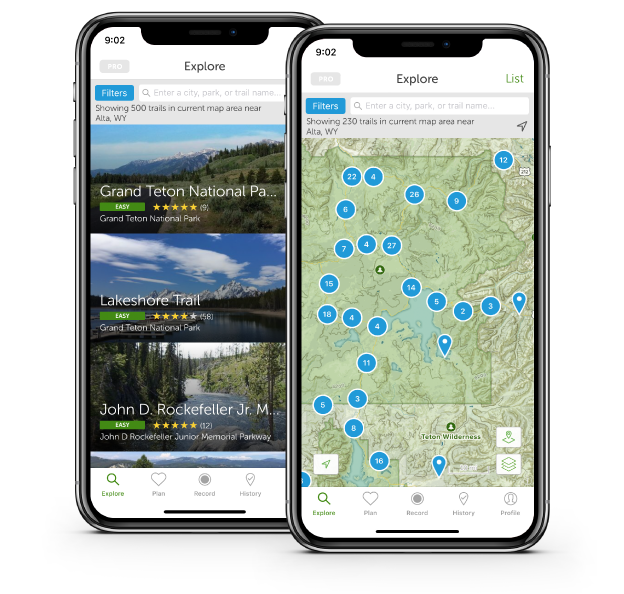 Find your next favorite trail.
Whether at home or on the road, find your perfect hike, bike ride, or trail run. Filter by length, rating, and difficulty level. Easily find dog or kid-friendly trails. Great views are a few taps away.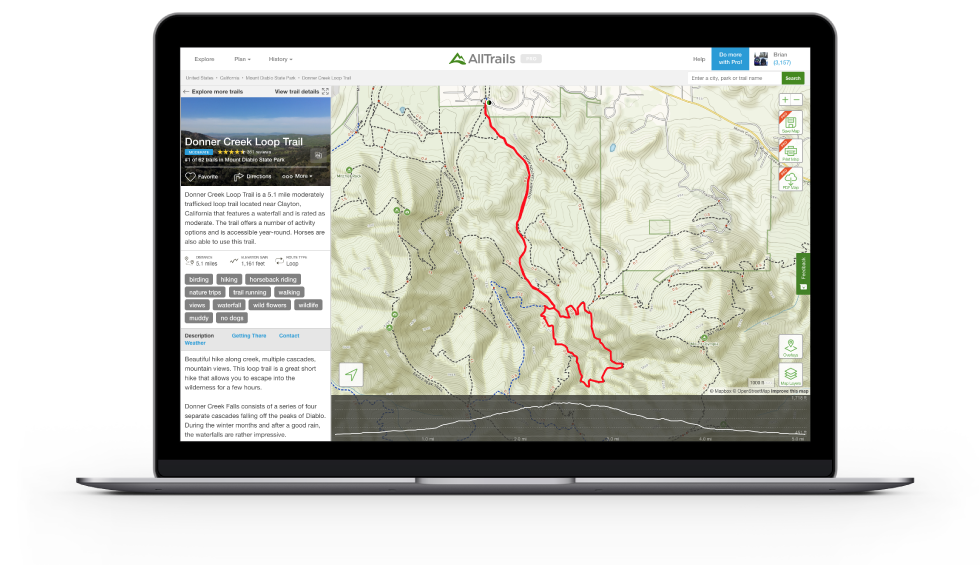 Know the details before you go.
Browse hand-curated trail maps as well as trail reviews, photos and activity recordings contributed by a community of hikers, mountain bikers, trail runners and more.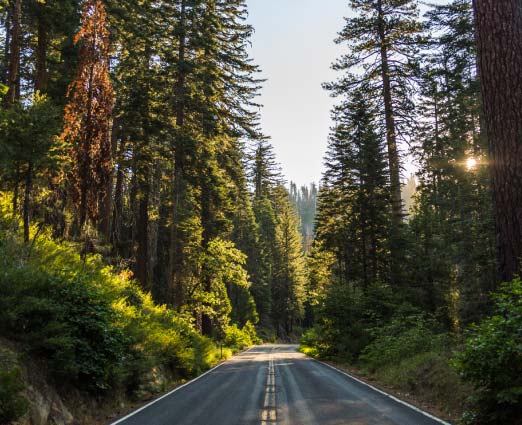 Get driving directions.
Never get lost finding the trail. With just one click, get driving directions right to the trail head. Access has never been so easy.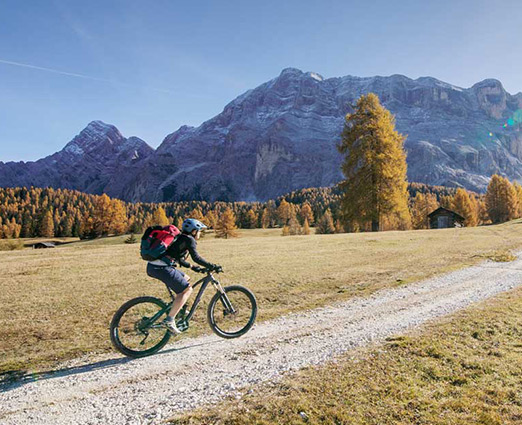 Save your favorite trails.
Keep a list of the trails you want to explore, or the ones that inspire you to get outside. Never lose track of your next adventure.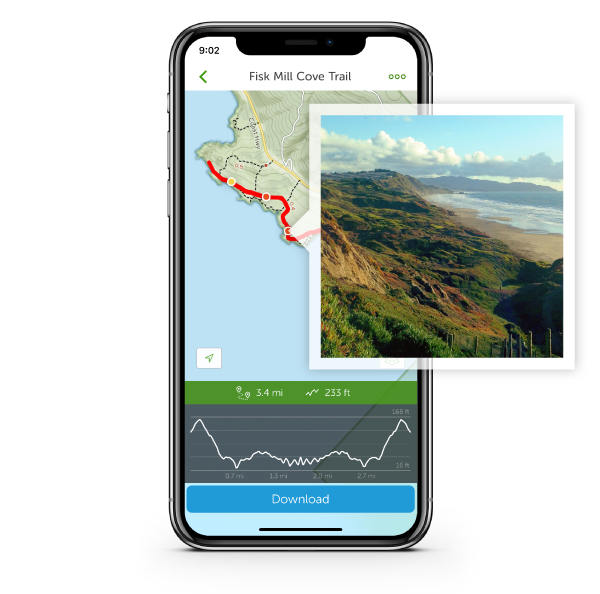 Know what to expect with content from outdoor enthusiasts like you.
Use map overlays to see community geotagged photos. View waypoints from an active community of 10 million AllTrails users. Check out nearby trails and explore all the possibilities.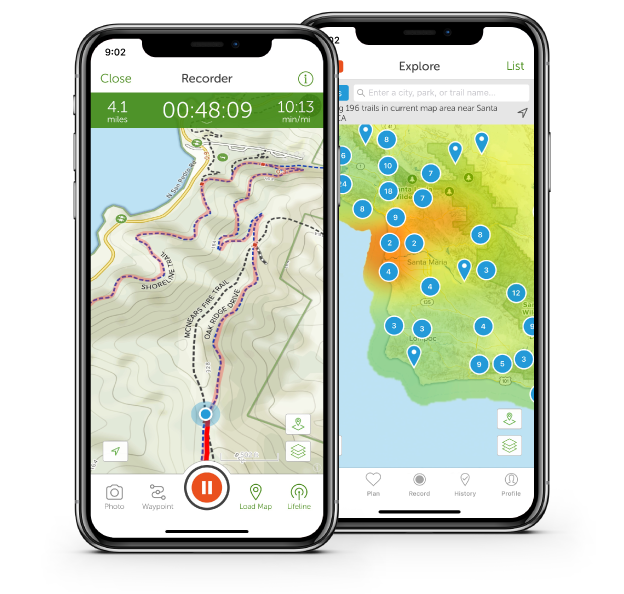 The best features at your fingertips. Do more with Pro.
AllTrails Pro makes planning and staying on course simple so you can relax and enjoy the trail. Create and download custom maps in seconds. Unlock features like custom maps, real-time map overlays and more.
Join a community of 10 million outdoor explorers
No matter if I'm in my home town and wanting something new, or traveling and needing to find out what's in the area, I can always find a great place to go hiking or get in a great run.
Best hiking app ever. Don't leave home without it. It's for your safety, when you are at the fork on the trail and don't know which way to go it could save your life.
Exactly what I'm looking for! I love the filter feature and all the details about each Trail I'm absolutely in love with this app! I also love that you can favorite trails and make a bucket list.
This is exactly what I wanted in a trail finding app. It's like Yelp for hiking.
AllTrails is my favorite app. It takes me places I would otherwise never go but am always glad I did.
AllTrails is really handy for finding new hikes and getting the 411 from other hikers who've previously completed a trail, with photos and written reviews.
Love love LOVE this app! It's so easy to find a place to hike, take photos, and share my adventures. I don't usually write reviews, but I had to here. I suggest this to all of my hiking buddies!
Makes finding trails easy! Lots of good information before you decide where to go. And the photos are a huge plus!!
I opted for the pro version so that I could take advantage of printing topo maps. Would recommend any outdoorsy type to use this app!
Great for finding trails I would otherwise never know about. Everywhere we go, we discover trails. Have even found trails near our home we never knew about.
This app has changed my life. I am out in nature two or three times a week now!
Free Account
$0.00 / month
Keep track of your favorite trails
Record and share your activity
Follow your friends for inspiration
Download your maps for offine use
Access more map layers
Stay current with real-time map overlays
Design and save custom trail maps
Print your own maps for backup
Experience AllTrails ad-free
Sign up
Pro Account
RECOMMENDED
$2.50 / month(billed annually)
Keep track of your favorite trails
Record and share your activity
Follow your friends for inspiration
Download your maps for offine use
Access more map layers
Stay current with real-time map overlays
Design and save custom trail maps
Print your own maps for backup
Experience AllTrails ad-free
Get Pro
Browse trails in popular parks
Browse trails near popular cities