The park was recognized in 2007 as a National Historic Landmark and a Virginia Historic Landmark. Many structures in the park, including the cabins, pool-house and picnic shelters, are little changed from when they were built by the Civilian Conservation Corps in the early 1930s. Tucked away in south central Virginia, the park lies on 2,400 acres between the Dan and Staunton Rivers at the threshold of Buggs Island Lake (also known as Kerr Reservoir). The largest lake in Virginia is only one of the parks many attractions, which include an Olympic size pool with a 70-foot waterslide, a smaller log slide and the Pollywog Pond, which is a water playground for children (there is a size limit on this pool). The shaded campgrounds, rustic cabins, picturesque picnic shelters, well-maintained nature trails, and plenty of exciting outdoor opportunities for the whole family make Staunton River State Park the perfect place for your vacation.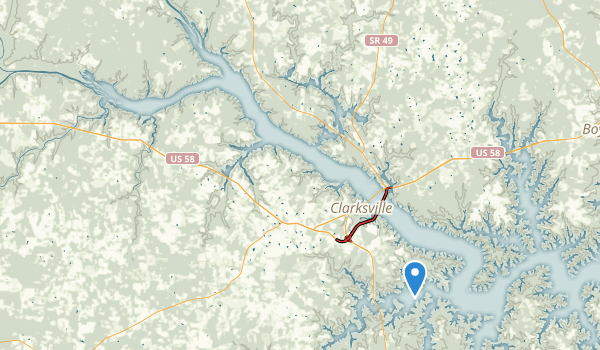 These are nice wlaking trails BUT the marker on the AllTrails map is way off mark if you are looking for Staunton River State Park. SRSP is west of Clarksville, VA and is well over an hour by car since you must loop back through South Boston and then back east to the tip of the land between the Dan and Staunton Rivers. It is a beautiful park with lost of amenities. Travel by kayak or canoe is much more efficient and you can easily reach it from Staunton View Park on the north shore. That park is managed by the USACE.
Nice trail with tons of water views and woodland wonder. If you are going out and back on foot it will be a long day. Better go one way and get a ride or take your bike.