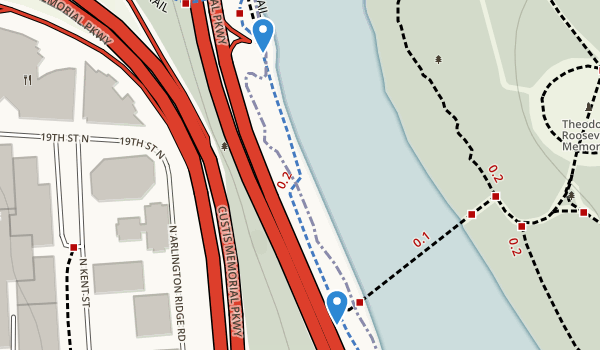 So much to see and do...from Dumbarton Oaks to Washington Harbour, Georgetown University to Rock Creek Park, Key Bridge, views by the Potomac, the C & O Canal, M Street, Wisconsin Avenue and all points in between. While living in the area, we spent many beautiful weekend days/evenings walking, exploring and returning to our favorite spots!
My fave running trail by far. Undulating hills (sometimes steep) with nice vegetation around. Will take you from Falls Church/Arlington to the edge of DC and back. It coasts along the busy 66. You can also pick up the best Italian sub and NY style pizza at the Italian Store, between mile 2.5 and 3. Also, there is something satisfying about beating the stalled traffic in the morning commute by bike to Georgetown U. Water stops at mile 0 and 2.
This trail goes about 5 miles from the Potomac River in Rosslyn (where it hooks up with the Mt Vernon Trail) to the WOD Trail. It's not a rail to trail trail, which means it is hilly - rails to trails are less hilly because the trains that formerly used the routes couldn't handle steeper grades. It's shady, not too crowded, and will get you to any number of places in Arlington, especially along the Orange Line Metro. Highly recommended.