Back Bay National Wildlife Refuge was established on June 6, 1938 as a 4,589-acre refuge to provide feeding and resting habitat for migratory birds. It is a critical segment in the Atlantic Flyway. As the metropolitan area of Virginia Beach began to grow in the 1980's, the U.S. Fish and Wildlife Service pursued a land acquisition program to double the size of Back Bay NWR in order to protect the watershed from harmful development. Since 1988 the Refuge has grown to over 9,250 acres, protecting critical habitat for wildlife, which years ago had been zoned for residential and commercial use. The Friends of Back Bay was instrumental in gaining approval for the expansion and obtaining $24 million of funds from the Land and Water Conservation Fund to purchase land from willing sellers within the acquisition boundary. The expansion provided a buffer against development, thus reducing erosion and runoff of fertilizers and chemicals that pollute Back Bay. As a result water quality has improved, there has been a marked increase in the amount of submerged aquatic vegetation and the numbers of ducks, geese and other waterbirds have increased. Back Bay NWR includes a thin strip of barrier island coastline typical of the Atlantic and Gulf coasts, as well as upland areas on the west bank of Back Bay. Habitats include beach, dunes, woodlands, agricultural fields, and emergent freshwater marshes. The majority of refuge marshes are on islands within the waters of Back Bay. Thousands of tundra swans, snow and Canada geese and a large variety of ducks visit the refuge during the fall/winter migration. Refuge waterfowl populations usually peak during December and January. The refuge also provides habitat for other wildlife, including such threatened and endangered species as the loggerhead sea turtle, piping plover and recently recovered species like the brown pelican and bald eagle. Back Bay NWR provides over eight miles of scenic trails, a visitor contact station, interpretive programming and, with advance scheduling, group educational opportunities. We are located in Virginia Beach, Virginia, immediately south of Sandbridge beach at the southern end of Sandpiper Road. Outdoor facilities are open daily dawn to dusk. The Visitor Contact Station hours are 8:00 A.M. - 4:00 P.M. weekdays, 9:00 AM - 4:00 P.M. weekends. The Visitor Contact Station is closed on Sundays, November through March and closed holidays, except Memorial Day, July 4 and Labor Day. The refuge is open during daylight hours only (1/2 hour before sunrise until 1/2 hour after sunset). Entry after sunset is prohibited.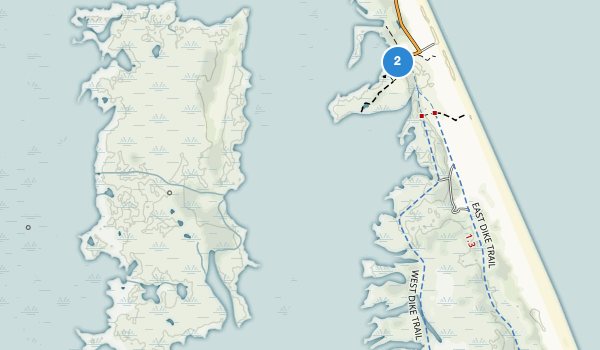 This boardwalk trail provides a great first impression of the refuge, and is accessible to all.
It is an interesting loop through the protected and fragile dune environment. It is part of the Back Bay National Wildlife Refuge. You are not allowed to leave the boardwalks to and from the beach, then you can hike down the beach to the other boardwalk. The fourth side is a road that only the Fed's and park rangers from False Cape State Park can drive on. it. Besides plants, sand dunes and ocean, I saw a little round fury animal that was too camera shy to wait around for me to get the camera out.
Part of the Back Bay National Wildlife Refuge, this area has 2 gravel trails generally available - other trails are typically closed for wildlife management reasons. Several accesses to the beach are gained via boardwalks. To gain access to False Cape State Park, you must traverse Back Bay National Wildlife Refuge for 4 miles. During the summer, this can be especially hot, so it's important to pack PLENTY of fluids. Hydration is key. From the Visitor's Center to the entrance to False Cape State Park, it's a round trip of 8 miles.

It's also important to be aware of the diversity of wildlife that lives here and that can be seen:
- Water moccasins (poisonous snakes) be especially watchful around dusk - they have been spotted in the canals and even on the trail
- White-tailed deer plentiful, but they are expert at hiding
- Nutria a native to South America and introduced to North america by fur ranchers - known as a river rat, they are about 2 feet long, but are relatively docile. Their calls almost sound like cows calling.
- Feral pigs left over from domesticated pigs about 100 years ago, they can be seen from time to time burrowing, but they don't seem to like human presence so they don't have a tendency to stick around. But always be careful around any kind of wild hogs.
- Osprey large "fish eagles" that can be seen on the beach as well as inland. Up to 2 feet long, they can be seen nesting on top of pole nests often provided by refuge staff. Though not as large, they have been known to chase bald eagles out of their territory so they're not shy. But are fun to watch, especially if you can catch them diving in the ocean for fish.
- Brown pelicans all along the ocean shoreline, you can encounter large numbers of pelicans.

These are just a few of the species you are likely to encounter while hiking through and around Back Bay. You might even spot a dolphin or two. Oh, and there are often loggerhead turtle nests that have been identified and roped off.

I have enjoyed many a hike through this biologically rich ecosystem - from dawn until dusk. There may not be much of an elevation change, but it will present a challenge to anyone wanting to walk through to the North Carolina border and back - about 21 miles.