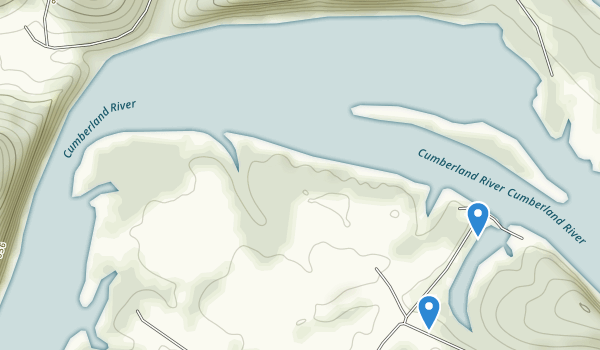 Not marked , lots of horses that have caused the trail to be ankle deep mud everywhere. Trail is not maintained at all.
Hiked the Wilderness Trail today. The trail is not maintained at all and mostly used for horses. The hike is not for the faint of heart (or legs). The trek up and down the bluffs along the river can get quite intense at times. The views are amazing along the entire river however I feel that once the leaves are in full bloom those vistas will be gone. The wet portions of the trail are all torn up from the horses but easily avoided. The trail is mostly loose large rocks which really makes it hard to keep up your pace and not twist an ankle. I did see a beaver and lots of turkey which was cool. I was for sure the only person on the trail on a gorgeous 75 degree Tennessee spring day. So if you're looking to get away and not bump into weekend warriors this might be your spot. The trail is marked with the occasional horse sign, and you'll get turned around in a couple spots. The easiest way to stay on the trail is following the consistent line of faded, crushed beer cans. The amount of trash along this trail is disturbing. Would I recommend this trail, no. If you're in the area for some odd reason and looking to get some exercise and be outside, then sure. Also look at the map I posted. This is not an out and back, it does loop. However, the most exciting part is along the river. Enjoy.
This trail wasn't labeled; we found it at the end of Holleman Bend Lane where there was a small boat ramp and parking lot. Trail was nice and wide, wet / muddy in low places, went along the water, and shared with horse riders. There were some pretty views of the river between the trees / brush. However, we discovered that the 3.7 mile loop wasn't really a loop; the halfway point was actually a small circle at the end of the trail which appeared to jut into the water. Essentially, we were supposed to walk around the little circle and go back the way we came. Instead, we thought we were supposed to take another trail that connected to the one we were on near the circle and head left away from the water. That was part of a network of horse trails, and in talking to some of the riders, we discovered we'd have several more miles of walking if we stayed on it. We had to exit through a right of way between two houses that took us to Slave Cemetery Rd, then take a left on Holleman, and walk back to the parking lot. Next time, we'll go back the way we came, and thank goodness for the riders that steered us in the right direction!