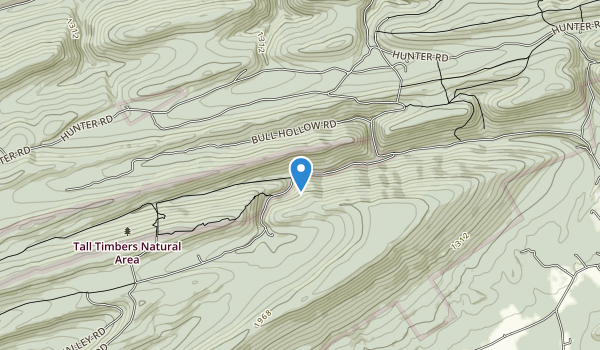 GPS Snyder-Middleswarth picnic/natural area, no problem. Just study the map a bit, you'll lose reception. Our topo of PA served after that point. Mature Hemlock give a deep woodsy feel the entire run, akin to Oregon coastal hiking. The woods smells sometimes mixed with arid desert type smells sometimes too though, as there has been scant rain this summer. Many delicate, white Aster flowers. Some scattered rhodys up the trail a good ways, not many. No vistas on Swift (valley by tiny trickle creek (Labor Day)), but a couple nice 125 y.o. Hemlock and some mature pine, nicely somewhat groomed trail, fairly rocky, no boulders, some detours around fallen trees require a bit more effort, but only 1x limbs sort of in way. Also took Kreb Gap at the T/terminus of Swift Run tr, Kreb gets real steep, about the time it gets steep, there's a tiny view back toward Tower trail which has no views, ever, but is nice switchback grade with stone steps at top 10m. Fire tower could be built for view if you bring enough structural steel. Cabin is missing too, would be cool to have history/plaque. 2.5 hours hiking time at steady relax pace. No potable water available. At noon we were the first up the trail, on the holiday w/e (spider webs ha), only 4 chickadees and a few calls high up the hill side, so very peaceful. May do again, winter snow would be awesome, so pretty on giant trees and rocks, if a bit tech.
Don't use the directions from here to find the trailhead. We actually had to ask for directions from locals. The trailhead is in the Snyder/Middlewarth Picnic Grounds. There are multiple routes, as shared here...it can be as challenging as you want it to be. We took the Swift Run Trail to Krebs. Crossed over the stream and climb up the hill. It is a good cardio. We stayed on Krebs until we run into the trail that turns into District and goes down a steep descent on Thick Mountain Trail. We crossed the stream and went up the hill that takes you on the dirt road that leads to the picnic grounds. Very well- maintained trail.
This is a great trail. Alone it is an out and back that can be a short one or as much as a 5-7 mile out and back. The cool thing is, at this area in Snyder County, there are a lot of little bisecting trails that will allow you to do a nice loop. You can do a high skill "Tower Trial" loop or a much softer "Hemlocks Trail" loop. No matter which way you choose, depending upon the season, there will be downed trees you must traverse. This is some of the last remaining old growth Hemlock forest (State Tree). Some of the best examples of HUGE uncut Hemlocks. The smell alone is worth the trip.