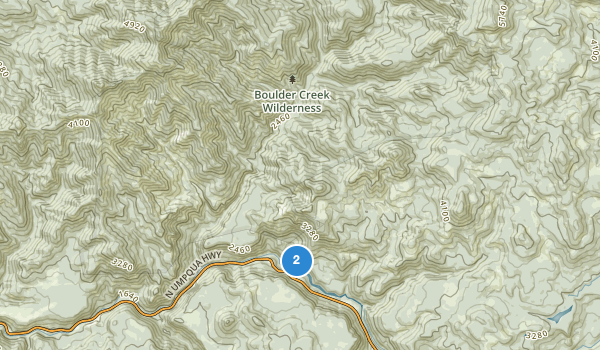 We hiked a 4.2 mile out and back side trip during our Pine Bench hike starting at the western edge of Pine Bench and ending where the trail crosses Boulder Creek. This trail is not used much and was quite overgrown with plants and stickery blackberry bushes. Most of the hike is through a forest of Ponderosa Pine that survived a fire in 1996. In fact, most of the Boulder Creek Wilderness was a victim of this fire and you can see in long distance views how the forest is recovering. Many charred trunks. The signpost to the old abandoned Perry Butte trail can be seen along this section. During July and in this drought year Boulder Creek was still running a respectable flow and the temperature was still cool. There is NO ONE out here. A great hike if you want to be alone.
The trailhead for this hike is the Soda Springs trailhead on the North Umpqua River system. The trail is directly behind the large water pipe and you have to walk under it to get to the signposts. The hike is initially a moderate climb straight uphill for about one mile but then levels off as you hike across the plateau. The Pine Bench is covered in Ponderosa Pine trees that are recovering from a 1996 fire that cleared out the underbrush. There are many charred trees, some that did not survive the fire but most did. At the end of the plateau we took a side trip up the Boulder Creek Wilderness and I have reviewed that section separately. We took the switchbacks down the other side towards Boulder Creek Campground but took a sharp left once next to the river and completed a loop by following the gravel road that parallels the Umpqua back to the dam.
Hikers should be aware that there is construction going on in this area with a Fish Ladder. Some of the trails are closed until November 2011. My 3 star rating is based on this fact and not the quality of the acutal hike.