Black Mesa is located in Oklahoma's panhandle along the tri-state border with Colorado and New Mexico. Black Mesa takes its name from the layer of black lava rock that coated the mesa about 30 million years ago. Visitors can hike to the top of the plateau, Oklahoma's highest point at 4,973 feet above sea level, in Black Mesa Nature Preserve. The nature preserve is operated by the Oklahoma Tourism & Recreation Department in conjunction with Black Mesa State Park. The nature preserve consists of approximately 1,600 acres where visitors can hike and enjoy 23 rare plants and 8 rare animal species. The unique area marks the point where the Rocky Mountains meet the shortgrass prairie and many species are at the easternmost or westernmost point of their natural range. Black Mesa State Park & Nature Preserve are a birder's paradise with golden eagles, scaled quail, black-billed magpies, and pinyon jays being frequently spotted. Other wildlife in the area includes black bear, bobcat, mountain lion, mule deer, bighorn sheep and antelope. Located about 15 miles from the nature preserve, Black Mesa State Park is adjacent to Lake Carl Etling and offers RV, tent campsites, picnic facilities, boat ramps and a mooring buoy, trout fishing in season, a playground, restrooms with showers and a group camp with bunkhouses. Black Mesa Nature Park is open dawn to dusk only. Allow at least four hours to hike to the top of the mesa from the parking area and back. No restrooms are available in the nature park and no camping is allowed. But both are available at Black Mesa State Park. Hikers need to be prepared for high temperatures during summer and bring plenty of water. NOTE: There is no boat access to Lake Carl Etling at this time. For specific lake conditions, please contact the park office.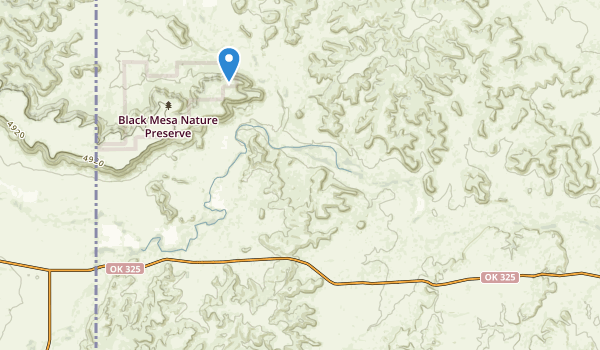 A nice quiet trail, easy at the bottom, moderate incline at mile 3, easier incline near the top. The surrounding landscape has a true old west feel. Best in the spring and fall.
Other than being the Oklahoma high point, there isn't really anything to recommend this trail . Much of the trail up to the plateau is on an old road. Hiking is easy, watch out for rattle snakes in the warmer months.
The Black Mesa trail itself is pretty easy. There are three benches, with back rests, that mark the first three miles of the trail. The hardest [if you can call it that] part of the trail is between miles 2 to just past mile 3, as that is on an incline. This part of the trail was at one point a road but has not been maintained. There are quite a few boulders, rocks and ruts in the trail. No vehicle would be able to pass currently and you should watch your footing. Once a the top of the mesa the trail is pretty easy and views are incredible. There is a fourth bench at the top near the monument.

I was the only hiker on the trail that day.

I actually did several Capulin Volcano hikes earlier and decided to do Black Mesa since I was in the general area.

After leaving Capulin, I went north to Folsom then got on 456 east to Kenton. Part of the road is an unpaved dirt road. On a wet, rainy day this would make for a messy trip, you might even get stuck. But it had been quite dry for me so it was an easy 1.5 hour drive.

After finishing the trail and returning to the lot, I drove back towards Kenton but then took 406 south to Clayton/Rt 64 and then headed west to Raton.