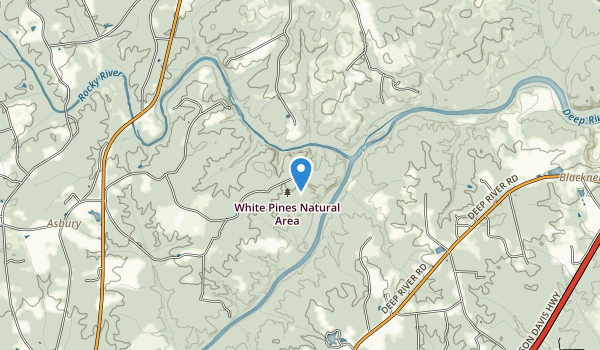 well i couldnt get all the way around the trail. at certain points it was so overgrown and narrow I couldnt even see where it went.
my little one was slipping off the edges and close to falling in the river.
I would not really consider a "kid friendly" trail. However, the views of the river when you get down there are beautiful!!! you are RIGHT NEXT to the river and could even walk out on the rocks if you wanted to. Bring bugspray.
Hiked this again today with the family. We all enjoyed the scenic river area. Noticed lots of beaver activity along the shoreline with a good number of trees chewed down and removed. The oldest white pine on the property is still a nice stop. Just a pleasant time all around.
This is part of the larger White Pines Nature Preserve Trails. Along this trail are unique features of the area to include the fork of the river where (according to the preserve's website) the worlds largest federally endangered Cape Fear shiner minnow population is found. Also the preserve's largest white pine is on this trail. It is a nice walk rated moderate mostly for the elevation change to and from the trail.