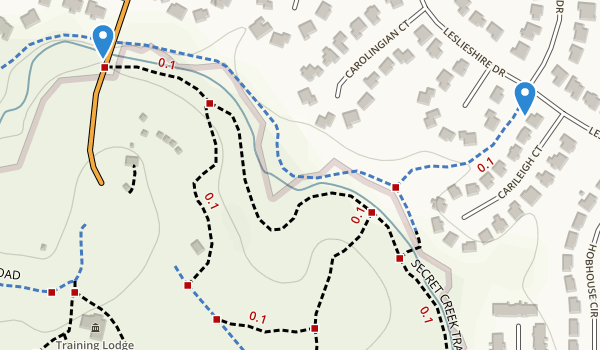 Simms Branch flows along Durant Nature Preserve, which was formerly known as Camp Durant, headquarters for the Occoneechee Council of the Boy Scouts. In 1979 Raleigh purchased the land from the scouts and turned it into a nature park. The park has lots of amenities and programs. Five miles of trails explore the park's 237-acres. You can hike along Simms Branch, through hardwood and pine forests, past wildflowers and ferns, through wetlands and alongside two lakes. Mountain biking is allowed on designated trails only when trail surfaces are dry. The trails do have some muddy spots and some big roots but nothing hard. The bike trails form a figure-eight, and signs let you know what trails are ok for bikes. Tying the off-road trails together with a ride along the Raleigh Greenway/Simms Branch trail make a nice bike ride.
Raleigh Greenway Trail is also known as Simms Branch Trail, part of the Raleigh Capital Area Greenway System. To delineate the two, I added a review for the Durant Nature Preserve on the Simms Branch Trail. The paved Raleigh Greenway is a great walking or biking trail, connecting Cub Trail/Finley Ridge Lane to Leslieshire Drive with one road crossing. The trail slopes down from Cub Trail to Leslieshire... a good access point is from Durant Nature Preserve at the north entrance. The trail follows along Simms Branch which is a nice creek. The shorter part of the trail gets hilly on the east side of Durant Nature Preserve access point. Really good for a bike ride.
great trails for running, hiking or just walking the dog. close to everything many options to get extra miles or mixing up the trips.