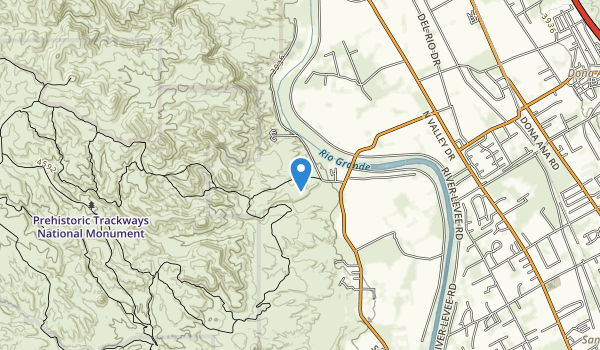 The north loop is very rocky, steep, and unkept. Be careful coming down. It is beautiful at the top and excellent close to sunrise.
Easy trail along the ridge. Some fossils can be seen in the arroyos.
This trail is located in a small mountain range very close to Las Cruces NM. Also, walking through their paths you will have a glance of the Rio Grande River. The good story about this place is that around the 80's, tracks from ancient animals were found. One of them was the Dimetrodon, a reptile not related with dinosaurs that existed 40 million years before them. Base on this fact, The USA Government set aside and protect, in 2009, a piece of land latter named Prehistoric Trackways National Monument. We started our journey at the entrance of the monument were the signs describing the place are. Basically we follow the trails we found and our walk described a number 8 shape path. Because you do not gain much in altitude the surrounding plants are typically Chihuahua Desert flora. We enjoyed this event very much and we hope other hikers visit this place.