Although this area is signifcantly smaller than the adjacent Mt. Charleston Wilderness and La Madre Mountain Wilderness, the terrain consists of beautiful vertical red and buff sandstone cliffs, capped by limestone in some areas, that are deeply incised by narrow, twisting canyons carpeted with vegetation. The area contains one perennial stream. Elevations range from 4,400 feet to some of the high points including Mount Wilson at 7,070 feet and Rainbow Mountain at 6,924 feet in elevation. This wilderness is located approximately 12 miles west of Las Vegas, Nevada, and is jointly managed by the Bureau of Land Management and the Forest Service. GEOLOGY Here you will find Jurassic sandstone cliffs with great examples of cross-bedding, which reveals their origin as sand dunes. You can also find older limestone that has been thrust over the younger sandstone. The geologic scenery of the wilderness is associated with the Keystone Thrust which extends for more than 45 miles through the Spring Mountains. FLORA AND FAUNA The range in elevation in this area provides for a variety of life zones. Here you can find ponderosa pine, pinyon pine, juniper, ash, manzanita, silk tassel, bitterbush, apache plume, scrub oak, willow, and hackberry. This range in habitat and the area's unique geology and microclimates support several endemic plant communities, plants that are found no where else in the world. With a keen eye you can spot desert bighorn sheep, mule deer, mountain lions, bobcats, coyotes, gray foxes, ringtails, rock squirrels, white-tailed antelope squirrels, and Merriam's kangaroo rats. You may also spot golden eagles, red-tailed hawks, Cooper's hawks, great horned owls, Anna's hummingbirds, yellow warblers, western tanagers, and black-throated gray warblers. CULTURAL SITES High concentrations of rock art, including both petroglyphs and pictographs, add to the uniqueness of this wilderness area.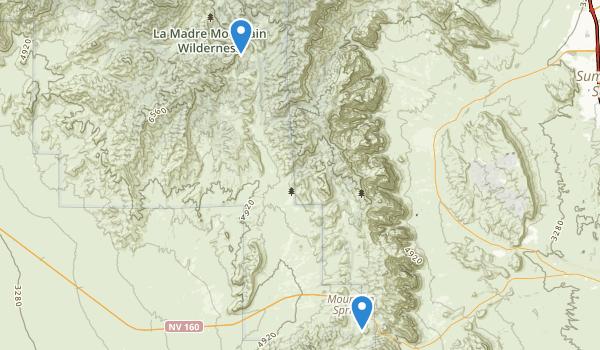 Follow the trails! It's definitely worth the hike. However it's definitely not an easy trail to hike. Make sure to bring water and snacks!
Excellent trail system for hikers and horseback riders alike. We often see cat tracks overlaying our horses hoof prints so make sure and keep your dog on a leash if you take one. Good chance to see elk and deer.