Situated at the confluence of the Niobrara and Missouri rivers on Nebraska's northeastern border, Niobrara State Park offers visitors an opportunity to sample a wide range of outdoor experiences. Cabins, camping from RVs to tents, picnicking, swimming pool (open mid June - mid August), boat ramps, horseback trail rides, hiking, fishing, history or communing with Mother Nature are all availble at this exceptional state park. A large population of white-tailed deer call the park home, and wild turkeys roam freely through the cabin and tent camping areas. Beaver, muskrat and mink prowl the river banks, and the varied bird life ranges from the majestic eagle to the tiny chickadee. The song of the whippoorwill blends with the call of the coyote in a nighttime serenade. For the wildlife enthusiast, Niobrara offers ample photo opportunities or just the chance to observe the many species native to the area. Nature's bounty is readily visible during a drive along the park's seven miles of roads or a stroll along the 14 miles of hiking trails.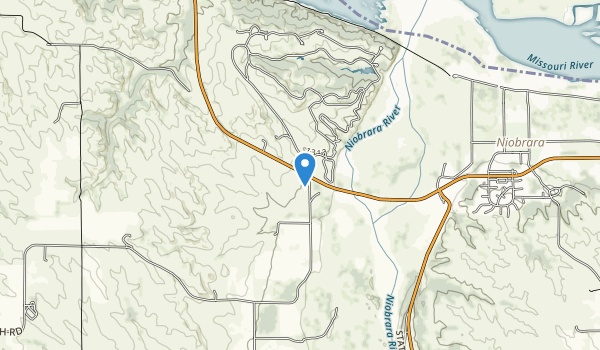 We will certainly come back here. Rented one of the nice little cabins and enjoyed a beautiful weekend of hiking and relaxing.
The trails along the Missouri River were beautiful. So much wildlife. Had a great time.
The Niobrara State Park has a 3 mile loop trail that winds from the top of the windy dunes, down to the river then returns along a forested subtle valley back to the park's office. Not really a hiker's hike, however it is a beautiful walk filled a variety of scapes, a decent breeze and plenty of primitive and daily use camping areas.
Niobrara State Park trails are typical of the rolling hills of this part of the state. Prairie grass covered hills with some timber is typical. It does border the confluence of the Missouri river and the Niobrara River. Many great views. Very abundant in wildlife. Great camp sites in the park. Fee camping from tent to RV and they have rental cabins.