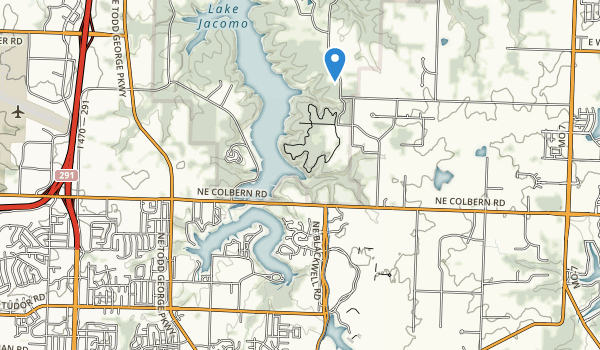 Trailhead: across from the buffalos on E Park you'll see a small 4 car parking lot with tiny pond right by it, park, the trail starts there.
This trail is super easy to get lost on!!
If you're wanting a remote trail run with low traffic and low maintenance this is it!! You start on a well distinguished path then there are tons of off shoots from the trails to take! Some led nowhere, but that was half the fun!

warnings: you WILL get spider webs in your face
high risk of rolling tour ankles with the narrow rocky trail
if you're running you probably will get lost
if you end up on a small gravel road, you'll be able to find another small trail that leads back into the trees!
Have fun exploring!
This trail is defunct. My son and I attempted to hike it today starting at the civil war museum in lone jack. The very informative volunteer working the museum explained the trail hasn't been maintained in a long time. There is a trail head marker but there is no trail. Possibly closer to Lake jacomo the trail exists but as the civil war trail it does not exist. The volunteer did say a local boy scout troop mentioned about rebuilding the trail but it seems as of right now it is not being done. In fact the volunteer said he has looked and he has never even seen a map that shows the trail from beginning to end.
Rated high for the History involved at both ends of the trail. It does follow quite a few roads, but it also goes through a nice county park. One can easily visit old MO town, hike to park to camp, then next morning hike to civil war museum. Have taken the boy scouts on this a couple of times.