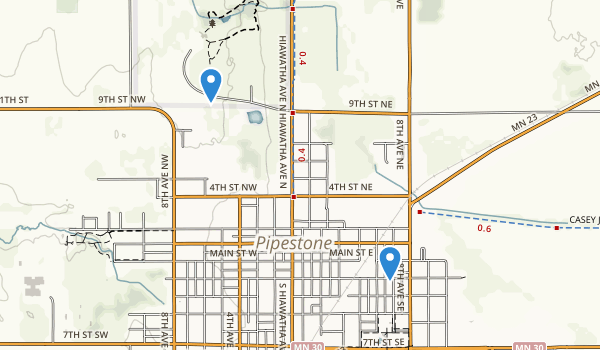 Great views with some elevation changes. The loop actually starts in Chanarambie, MN.
When we did this one, we went clockwise to completion. The next time we will go counter clockwise. Going counterclockwise will be very steep to start, but should be mostly downhill after the first half mile.
Beautiful scenary and definately worth the drive out to check it out. The trail was closed across the waterfall, so that made the trail twice as long by the time we circled back and did the other side.
Pipestone National Mon. is a great site to visit to understand our native american heritage. The site has a great visitior center with a superb introductory film, nice indian artifacts. The short paved trail leads to the working pipestone quarry and a neat special scenic area with a waterfall and nice rock formations, and restored prairie. The trails is not fully wheelchair accessible, but, one in a wheel chair can do the trail with some assistance. Well worth the trip. Their is an entry fee, but worth it.