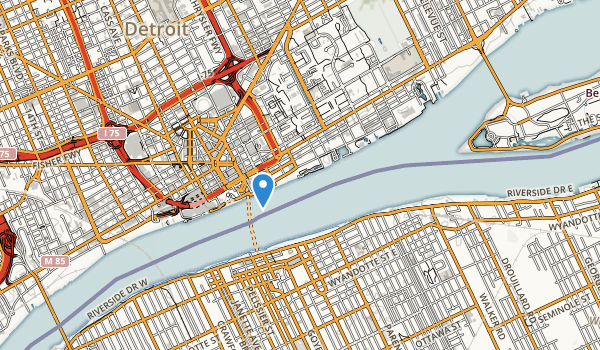 Beautiful! Clean, friendly, beautiful art and nature.
Talk about a relaxing time. my wife and I walked this trail during the Jazz Festival and fell in love with it. You can't beat the nice breeze coming off the river. Starting with the view of the Renaissance and through a man made nature trail you work your way to a rest area with a merry-go-round. Well I won't tell the rest. But I will tell you this. it's worth the drive.
The Detroit Riverfront trail is a great way to take in both the sights of the river, with Canada not so far away, and the city itself as it abuts right up to the trail. There are various plazas, which have public art and fountains (such as those at GM Plaza) which act as gathering spots for those taking breaks while walking the trail or just looking for nice spot by the river. Other fun sights include a wetlands and light house. All this combines together to make for a perfect spot to take a leisurely walk that is urban yet not urban. I know there are plans to extend the riverwalk, so hopefully that will come to fruition! For now, it is best to enjoy what has been accomplished.