Streams, waterfalls and flowering shrubs abound in Pittsfield State Forest. 65 acres of wild azalea fields are a profusion of pink blossoms in June. The forest has two camping areas, two picnic areas and a swimming beach. Fishermen frequent scenic Berry Pond, one of the highest natural water bodies in the state at 2,150 feet in elevation. The vista from the top of Berry Mountain, accessible by auto road from April to December, is a striking panorama and a great place to watch the sun set. 30 miles of trails encourage visitors to escape into the quiet of the state forest which follows the crest of the Taconic Mountain Range separating Massachusetts and New York. Access is available at several locations to the Taconic Crest Trail a 35 mile long hiking trail. The paved three-quarter mile Tranquility Trail is popular with wheelchair-users and other visitors who favor its smooth surface. A wheelchair-accessible picnic area and restroom are located nearby. Nearby Balance Rock State Park is located in the northeast corner of Pittsfield State Forest. Here a huge 165-ton limestone boulder is balanced precariously upon bedrock, a natural curiosity. ATV and Motorcycle Permit Information for 2010 DCR will be offering a limited All Terrain Vehicle (ATV) and Off Highway Motorcycle (OHM) trail system at Pittsfield State Forest for the 2010 season. Approximately 20 miles of trail has been closed for 2010 to protect resources regulated under the Massachusetts Endangered Species Act, (M.G.L. c. 131A). Approximately 14 miles of trails will be open for ATV and OHM use beginning Saturday, May 29, 2010. In the interest of public safety, DCR has instituted a required trail permit for ATV and OHM users of Pittsfield State Forest ATV/OHM trails. This process is intended to ensure that overuse of the limited trail system does not present a safety risk to motorized or non-motorized users of the trails. For more information please visit the DCRs Off Highway vehicle page or call (413)499-5112.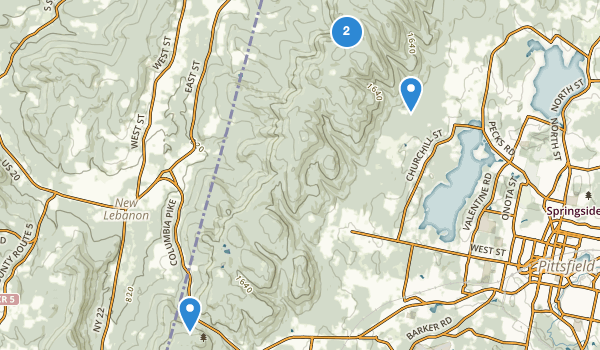 Pittsfield State Forest is a great park with mixed activities available. I hiked up the Lulu Brook trail, followed a trail and road to Berry Pond and somehow managed to find a sign on the way back down that said "Turner Trail". Beyond the sign, I'm not sure I actually hiked very much of it. Multiple trails crisscross and signage is at a minimum for the most part. I even found a trail that wasn't on the map. Overall, it was a very pleasant walk with a bit of an overlook at the top. Berry Pond was a good stopping place as well. Trails are in good condition, map is helpful, signage - not so good.
This trail is great we go there a lot ...
I love the Pittsfield State Forest. There is something for everyone here. There are lots of looping trails that you can explore for hours. One of my favorite places. I am going to try mountain biking here as I see their tracks often and want to make some of my own :)