Its first name was Quashquema, a Fox Indian word meaning "peaceful place." Its current name is Nauvoo, a Hebrew word for "beautiful place" or "pleasant land." This historic town is the backdrop for Nauvoo State Park, on the banks of the Mississippi River in western Illinois' Hancock County. The 148-acre park, on the south edge of Nauvoo along Illinois Route 96, includes a 13-acre lake with a mile-long shoreline. In addition to fishing, boating, camping and hiking, people return to these serene surroundings for the park's recreational features, its annual grape festival, and to soak up the area's history.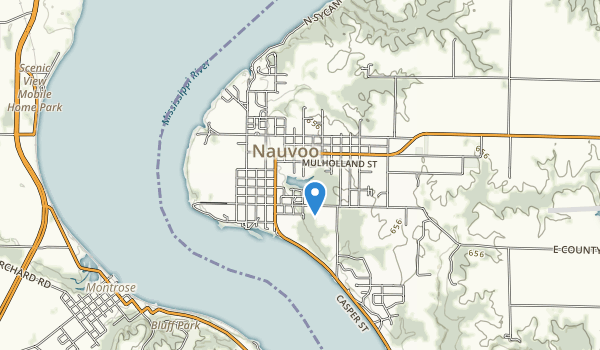 If you are into mountain hiking this would be great. The hills are straight up and down with gravel. Wouldn't recommend this trail when wet, would be very slippery. Has a large swamp area with no bridge if a wet season you would be wading through mud. Be sure to bring your walking stick for the hills and plenty of band aids.
Nothing on the trail makes it remarkable. Just a place to stretch your legs while camping at the park.