Hells Gate State Park is the gateway to both Idaho's Lewis and Clark country and to Hells Canyon, the deepest river gorge in North America. Shady campsites along the Snake River make comfortable base-camps for exploration of the surrounding area. Jet boat excursions into Hells Canyon leave on a regular basis from the park's docks. The Nez Perce National Historic Park is only 30 minutes away. A wide choice of restaurants and shopping are just minutes away, in nearby Lewiston Idaho.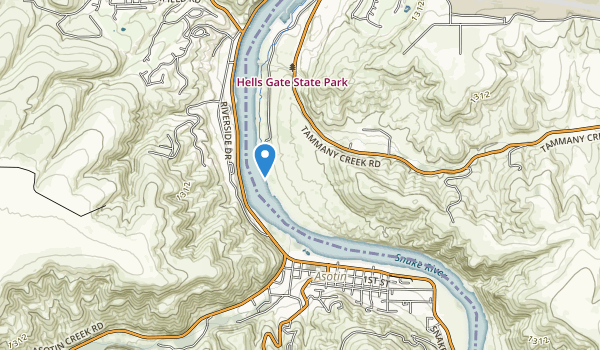 Loved this area. Not sure if the site is referencing the same location, but I started at the Clearwater Natl Forest trailhead in Harvard. Thanks Idaho..! All The untouched forest areas remained accessible and beautiful. I could've walked all day...or rode a horse..or ATV...
I agree with Jim Cooper's comment below. Be sure to check out the Hell's Gate State Park website for better info.

The hiking we did within Hell's Gate State Park took us to some amazing rock formations, and being that I was there with a bunch of geologists, this was a big plus. I think we all expected a bit more of a "hike". Where there was mud alongside the river, things got a bit dicey. Other places, it was quite rocky and seemed more appropriate for adventures on wheels. The water levels were high when we visited, so our hike was cut short. A rattlesnake on the side of the trail at this point also made us feel a bit unwelcome (though that was exciting).
This is not a trail, it is a State Campground. There are trails around there but this does NOT help anyone find them