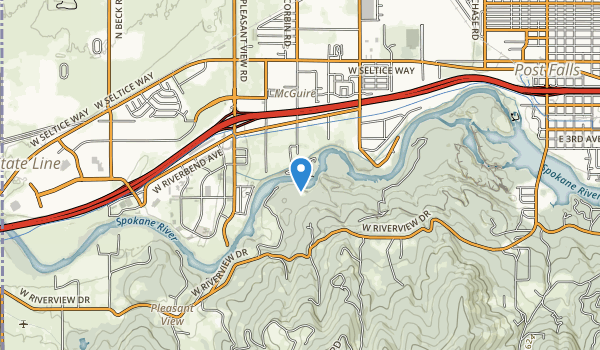 If you are after a hike, where you shoulder your backpack, grab your hiking sticks, and head off for the wilderness, then this is not what you are looking for. This is a nice spot to roam around the shore of the Spokane River, not too far from residential areas or major roads. It is a good spot to have a picnic in Corbin Park, throw a Frisbee, and wander around, looking at some rock formations and the scenic Spokane River.

The trail is not a trail in the linear sort of way. It is more an area where one can wander about the shore of the river. There are a few places where the trail is clearly defined, but if you are after a hike on a trail that you may clearly follow from one point to another, this is not it. It is a fun place to spend 30 minutes hiking around a bit.

Please be advised that although this is a nice place for a family adventure, parents would be well advised to keep an eye on their little ones. The currents in this area are scary, even in the autumn, when the water level is low.
You get off I-90 go East on w river bend ave turn right on Corbin rd stay on main rd it will take you straight (well the road is curvy) into Corbin park.
I drove all over trying to figure out how to get here. .. I was on private roads and private property. ... not sure how to get to this destination