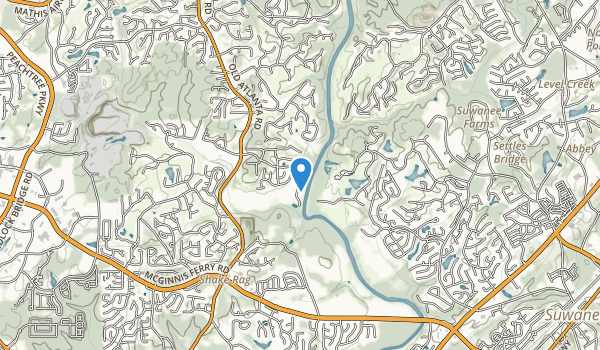 Flat gravel circle. Nothing to see really. Good to walk a dog if close.
Chattahoochee Pointe Park is in an affluent neighborhood of Suwanee, GA. Long time residents may remember that the park originally came from land parceled off from a horse farm. While driving down to the road to the park back then, horses would hang their heads over the fence and gaze at the car with curiosity. There was an old chimney ruin and a nearby well that was surrounded with hog wire; its location marked with an American flag. It was idyllic. Alas, the remaining horse farm property was sold to developers. Now you drive through a subdivision of upscale homes before reaching the park. The pond is now the subdivision's retention pond. The chimney ruins and well were bulldozed to make way for McMansions. Its a small wonder that we even have a park along this prime piece of river real estate and have the foresight of county planners to thank.

If you can get past the idea that there are these large homes around the park, you can still enjoy the trail. What's nice is that you don't have to travel far to enjoy the river if you live in the area. The trail is a soft surface loop that follows along the Chattahoochee River. There are also footpaths that run off the main trail. Caution should be used when using these footpaths however as many of them run along the steep banks of the Chattahoochee and its confluence, Dick's Creek. Several creeks drain through the park and are visited by deer. There are toilets available but they are an improved chemical type. The trail is well maintained and usage is light. However, Forsyth County schools run X-country track meets here. When they do, upwards of 1000 people may be here, and there is only one access road.