A large acreage of scrubby flatwoods makes this park one of the best places to see Florida scrub-jays, a threatened species found only in Florida. The park protects scrubby and pine flatwoods that were once widespread throughout Sarasota County. Fifteen miles of trails through these beautiful natural areas provide opportunities for hiking, bicycling, and wildlife viewing. Canoeists and kayakers can paddle along South Creek, a blackwater stream that flows to the Gulf of Mexico. Canoe and kayak rentals are available, but motorized boats are not permitted in the park boundaries. Freshwater and saltwater fishing are available along the creek. Anglers can fish along the shores of Lake Osprey, which is also the parks swimming destination. Picnic areas along South Creek are equipped with grills; pavilions can be reserved for a fee. The park has full-facility campsites and a youth/group campground. The park nature center has exhibits and videos about the parks natural communities. Located on U.S. 41, two miles south of Osprey.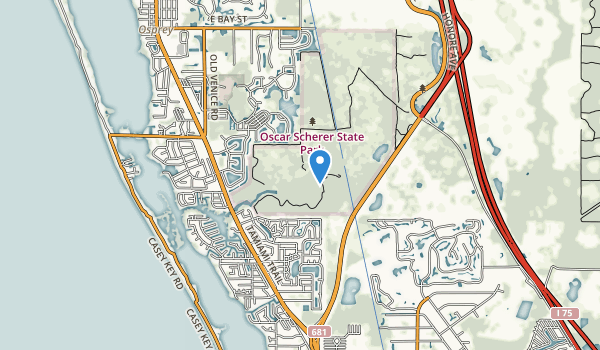 All the trails are on the easy side, green being the easiest and yellow being the most difficult.
This trail hooks up with many others in the park that take you by beautiful lakes, streams, and wildlife habitats. Hold your hand flat and make a gentle hissy sound and a scrub jay may land in your hand.