Grayton Beach consistently ranks among the most beautiful and pristine beaches in the United States. The beach provides an idyllic setting for swimming, sunbathing and surf fishing and is the backdrop for golden sunrises and silver moonlit evenings. The nearly 2,000-acre park features a boat ramp that provides access to the lake's brackish waters for both freshwater and saltwater fishing. Visitors can paddle a canoe or kayak on scenic Western Lake to get a closer look at a salt marsh ecosystem. A nature trail winds through a coastal forest where scrub oaks and magnolias stand, bent and twisted by the salt winds. Hikers and bicyclists can enjoy more than four miles of trails throughout the pine flatwoods. Options for overnight stays include modern cabins and a full-facility campground.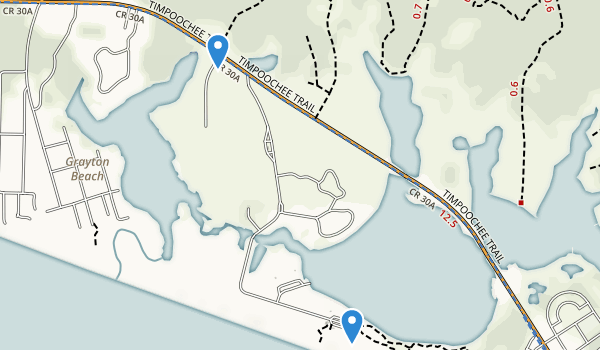 Its a flat, wooded forest that isn't really maintained, but gets use from walkers, bikes, horses and vehicles. Still its a nice loop to make close to town and the campground.
Nice easy trail in the state park. Beautiful beach. Interesting trail. Could not finish because a low spot was too muddy and we were not prepared.
The Barrier Dune Nature Trail was a pleasant trail that was easy to take along my children, who are 8 and 10 years old. It is scenic and allows one to see the sea-shore dune habitat. We hiked the trail in October. There were wild flowers and many butterflies. We also saw a pelican. Part of the trail was flooded. For someone visiting on a short vacation at a nearby resort, this trail was good to see some of the local habitat. The trail is easy, but sandy that is not strenuous.