Bent's Old Fort National Historic Site features a reconstructed 1840s adobe fur trading post on the mountain branch of the Santa Fe Trail where traders, trappers, travelers, and the Cheyenne and Arapaho tribes came together in peaceful terms for trade. Today, living historians recreate the sights, sounds, and smells of the past with guided tours, demonstrations and special events. Hours vary seasonally.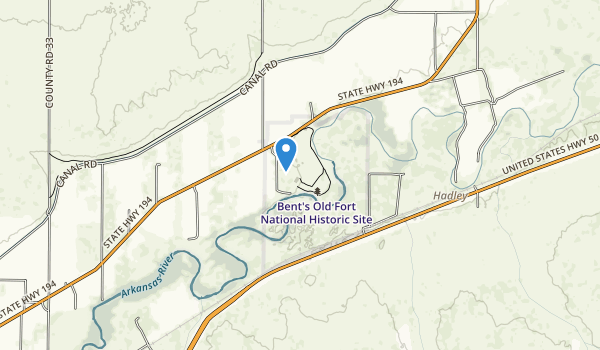 Great history, well preserved fort and great staff. Not a hike, but a walk through the historic site. A must do in the area and it is not bad for a destination.
This is a scenic walk around the NPS' reconstruction of Bent's Old Fort. The site is quite off the beaten path, but,

If you are in the area, I strongly recommend a tour of the fort (and this scenic walk). The park does a great job of explaining the history behind the fort and the connection between the Spanish, native tribes, and American trappers and traders.
Just 1/4 mile from the parking lot to the fort on a paved path. It's located on the north bank of the Arkansas River, to the east of La Junta, Colorado. Very interesting!