As described by the Midpeninsula Regional Open Space District: "Overlooking the town of Los Gatos and the south bay, Sierra Azul Open Space Preserve is the District's largest preserve, encompassing over 17,000 acres of mostly rugged and steep terrain. The environment of Sierra Azul is strikingly varied. One can visit serpentine grasslands, hard, rocky, and steep chaparral, dense stands of bay trees, or quiet, shaded oak woodland forests. For the more hardy explorers, there are deep ravines and riparian corridors, some containing seasonal or year-round water flow. Wildlife is abundant in Sierra Azul. The entire Preserve is prime mountain lion habitat and also provides homes for deer, bobcats, coyotes, and many other species of animals. Sierra Azul ("Blue Range") is a true wilderness area, yet surprisingly close to the urban areas of the South Bay, making it a popular destination."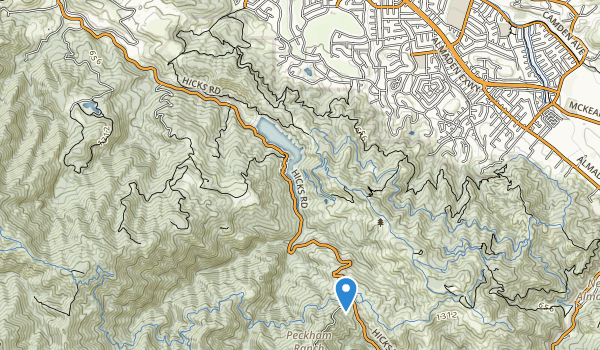 Very peaceful. Lots of trees and great views across San Jose. No benches. A word of warning, in the small car park at the hicks road/mount Umunhum road, there have been lots of car break-ins. I was there in November and all but mine of the 6 cars had been broken in to.
This is a nice trail with lots of shaded areas and interesting geological variety!