Olompali State Park, located three miles north of Novato on U.S. 101, overlooks the Petaluma River and San Pablo Bay from the east-facing slopes of 1,558 foot Mount Burdell. The name "olompali" comes from the Miwok language and may be translated as "southern village" or "southern people." The Coast Miwok inhabited at least one site within the area of the present-day park continuously from as early as 6,000 BC, until the early 1850s. Olompali contains "kitchen rock," a large boulder used as a mortar in which early people ground acorns and seeds into a fine flour for food preparation. Many women would gather near such grinding rocks to prepare food and socialize.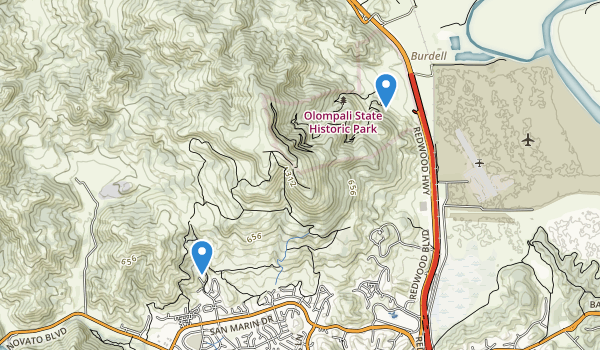 I took the trail up to where it meets with Mt Burdell. Lots is switch backs make it doable, but then you feel like the scenery is all the same. Hearty walk up, but and easy 5 mile jog back down.
Nice easy hike if you have small children. Village in the beginning has lots to see. The trail is not very scenic, but it's easy and the entire family can enjoy it.
A nice easy walk in a pretty park with lots of history. You can also extend your hike to the top of Burdell for some great views.