Great Valley Grasslands State Park preserves one of few intact examples of native grasslands on the floor of the Central Valley. The park is part of the larger Grasslands Ecological Area (GEA) of federal, state and private lands all managed for wildlife values. The GEA represents the largest remaining contiguous block of wetlands in California. Several rare and endangered plant and animal species inhabit the park, including alkali sacaton, a native bunch grass, and the Delta button celery (Eryngium racemosum) a state listed endangered species found in the flood plain of the San Joaquin River. Biologists have also reported the California Tiger Salamander and endangered vernal pool fairy shrimp and tadpole shrimp. Springtime wildflower displays, fishing and wildlife watching attract visitors to this undeveloped park, which also encompasses the former Fremont Ford State Recreation Area.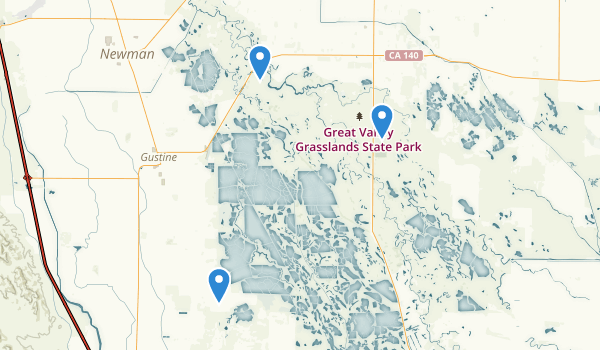 I agree with Krista. This is not easy to find. In fact we turned back when the turn on to Ingmar Grade indicated Private and although a gate was open, it appeared to be a private property. We decided to go on the Grassland Trail just south of Stevison on Lander Ave
All Trails! What is up with your nav feature. This is the 3rd trail that we have driven to, which is always out of our way because that's how hiking works, and there is NO trail. Do you understand what a waste of time that is? Gas? My dogs are a wreck with no walk. Don't claim to be an app that tells you how to get to hikes! I am so angry!!
Fail!! It was very dry and no shade along the trail whatsoever. I was hoping that there was a way down to the river for my dogs to drink water, but there was none. Luckily I had my own water. The only reason I gave it 2 stars is because its good to just go for a jog. Its flat, dogs don't have to be on a leash. I also saw allot of fishermen.