Castaic Lake State Recreation Area is a reservoir of the State Water Project. It is one of the Project's largest recreational lakes and the terminal of its west branch. The site includes 29 miles of shoreline. A major attraction is the 425-foot tall Castaic Dam. Castaic Lake has two bodies of water. Lower lake is for non-power boating and canoeing. Swimming season on lower lake runs from mid-May to mid-September. Upper lake is for sailing, power boating, water and jet skiing, and fishing. The lake is stocked with bass, trout and catfish. Boat rentals and a tackle bait shop are available. Other recreational activities include hiking, biking trails, picnic areas and playgrounds. Rental group picnic areas are available for up to 600 persons. Park is open sunrise-sunset. The recreation area can be reached by exiting Interstate 5 at Hughes Lake Road, 41 miles northeast of downtown Los Angeles. From Ventura, it is 51 miles to Castaic Lake via Highway 126 and Interstate 5. Please be advised, Castaic Lake SRA is one of the few California State Parks that does not accept the Annual State Parks Pass.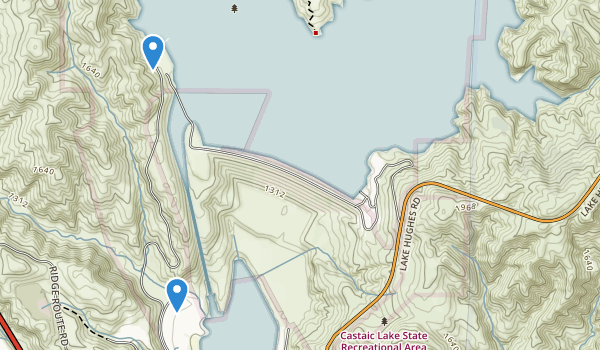 This is a gorgeous spot, but be prepared to pay for parking ($5 or $8 I think) and see joggers/swimmers if it's warm enough.
This trail was desolate, and when we heard coyotes making a kill in the vicinity of the area we had just passed, it was a bit eerie. The trail seems to go on and and on monotonously and is not too strenuous at all. When you finally begin to loop around you are almostly instantly greeted and rewarded by beautiful views of the upper lake area that seem to go on forever! We covered nearly the whole range, and after it looped around it continued to incline a bit. This is where I think we chose the wrong path, because we let out of the trail on a windy road which took us an additional 30 mins to cover. Altogether about a 6 plus mile hike. Although the view of the lake was miraculous I probably won't be frequenting this trail.