Park opens daily at 7:00 a.m. Park closes at: 6:00 pm January & February 7:00 pm March 8:00 pm April 8:30 pm May 9:00 pm June & July 8:30 pm August 8:00 pm September 7:00 pm October 6:00 pm November 5:30 pm December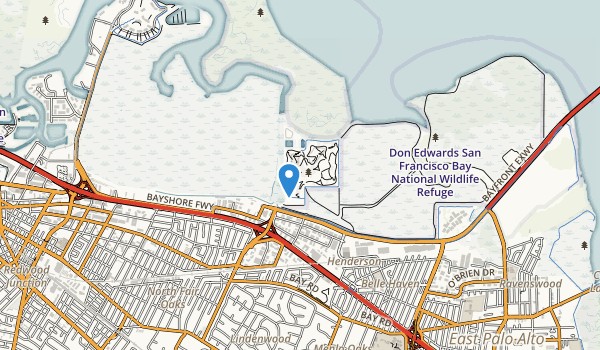 Bayfront is my favorite park. It's a dump. Literally - it was the site of the local dump up through the 70s, and after closing, was refurbished as a park. It is woefully neglected by the city of Menlo Park, although the trash and recycling gets picked up regularly, and the bathrooms have (1-ply) toilet paper 90% of the time.

But the reason I love the park is because it's kind of a dump near a freeway in a poorer part of town near industrial areas. It means no busy bodies go there. It's where I can let my dog off leash, and no stuck up Palo Alto housewife is going to call the cops or feel her precious Brayden/Cayden/Ayden will be threatened by a small black mutt. (Yes, my dog is trained, has good recall, is non-aggressive towards dogs and people - my dog is solely interested in the jackrabbits and the Canada geese).

This is my go to park! Don't change a thing about it.

Minus one star because it still smells like a dump thanks to low tide in the marsh, and the wastewater processing plant.
It's a decent flat place to run on the Bayshore Highway. You can also find some hill back in the park.
We walk this park frequently with our dog Sparky. It is a nice park. At any given day, you will see families flying kites, people flying planes, and lots of dogs walking the trail. If you are into bird watching, you may come across some good spots (depending on how crowded it is). Sparky loves the walks we do there. There is a main trail that is about 2.3 miles - and its a loop around the park. It is a flat route. However, if you want to mix it up, there are several trails inside the park that includes hills. The parking is pretty good there.

As much as I enjoy coming to this park, I hate seeing broken beer bottles.. everywhere. This park is very popular, and with that, people take care of the park. There is often trash everywhere, and most people do not clean up after their dog. It makes it challenging walking our dog since he wants to eat everything.