The park is located at 34138 Mulholland Highway, Malibu. Take Pacific Coast Highway to Mulholland Highway. Turn inland on Mulholland Highway, six miles to park entrance on the right side of road.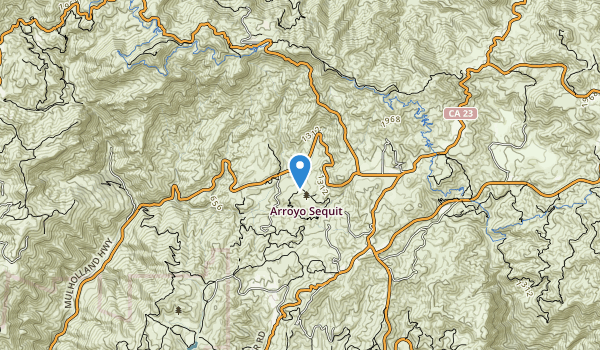 I was the only person hiking the Arroyo Sequit loop trail this morning. This is an island of tranquility surrounded by homes off of Mulholland to the north, northeast, and northwest, and the giant AT&T microwave antenna installation to the south.
The loop trail wanders up an asphalt road from the parking area past a house and the Santa Monica College astronomical observing site (a ring of benches surrounding a flat place in the dirt). It then zig-zags over a rise and down into the area of the creek.
Numerous creekbed crossings (now dry) have an abundance of canyon delphiniums, mariposa lilies, and hummingbird sage in bloom, as well as lots of manzanita, other sages, and easily avoided poison oak. The parts of the trail that are on the canyon wall above the creek are broad and clear of brush.
A number of watercourses join the creek from uphill to the east and south, with the promise of waterfalls in wetter times.
I took the trail counter-clockwise. The steepest climb was from the last creekbed crossing up to a meadow south of the house.
Others have commented on the amount of scat on the trail - confirmed! Much horse, and plenty of predator poop as well. All dry, all good.
small parking lot, very quiet. the creek was dry. over grown with weeds big time. watch out for poison oak and ticks...There is a sign that even says you may spot a mountain lions as well.. (even though they are rare). Didnt like this trail. Maybe if it was so over grown with weeds it would be better.