DeGray Lake Resort State Park is Arkansass only resort state park. Set in the foothills of the Ouachita Mountains and nestled along the north shore of 13,800-acre DeGray Lake, one of the regions five Diamond Lakes known for their crystal clear waters, DeGray offers all the outdoor adventure and quality of an Arkansas State Park combined with resort class amenities. DeGray is a fishing and water sports paradise, a golf resort, the ideal camping spot and the perfect location for family vacations, getaways, reunions, weddings, business meetings and retreats. The parks dominant facility, DeGray Lake Resort State Park Lodge, sits on its own island and offers guests spectacular views of the distant mountains and DeGray Lake itself. The 94 room lodge is centrally located within the park and includes convention and meeting facilities that can accommodate groups of 10 to 300 attendees. The DeGray Lake area is rich in birdlife and wildlife which are protected within the park. The rustic natural beauty and pristine setting are ideal for a wide variety of outdoor pastimes. Bicycle through the park, go bird watching, enjoy the hiking trails or lounge on the beach. Have a family picnic or a group gathering and cookout at one of the park pavilions. Park interpreters offer guided lake tours, snorkeling adventures, guided hikes, nature programs, outdoor workshops and more. The possibilities are limitless. Plan your next vacation, getaway or event to DeGray, Arkansass resort state park.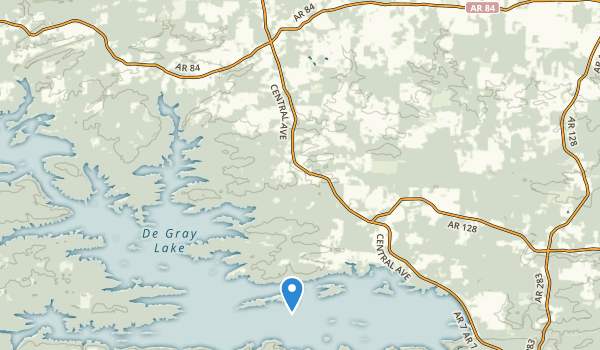 The trail was nice, but we went at noon in August so it was blazing hot. BUT the point in the middle of trail looks like it would be awesome at sunset. The walk was alright, definitely not very strenuous.
Super easy loop located in Lake DeGray. It was my first trail and was so easy and pleasant I circled it 3 times within an hour. If you're close, it's a nice trail with a couple access points to the lake for the kids or dog. If you're looking to test the waters, or test the waters with your kids or dog, this is a decent trail to start. Plus there's a playground at the lodge, so after the hike, the kids can play.