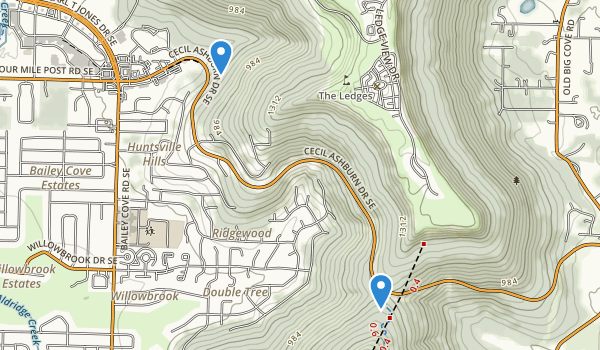 Probably one of my favorite quick in town hike-walks. For an experienced hiker this is definitely rated easy. The hike itself takes no time at all, but provides one of the best views of the Huntsville area once you get out to the power line pass area where the trees have been cleared. Worth checking out if you get a chance.
Parked down by the Southeast Church of the Nazarene, there's a good trail head. The trail itself is very clear with lots of markers and quite a few benches provided along the first half or so of the uphill. Overall the trail had interesting rock formations, forest views, and plants, but no scenic overlooks. There was one bench that looked out over a little bluff, but the view was obscured by the leafy trees, maybe it's more scenic in the cooler seasons.

It took us about 2.5 hours to get from the church trail head out to the little split that goes down towards the Blevin's Gap parking-lot and back at a pretty leisurely pace while I used a stick in front of me to clear spider webs.