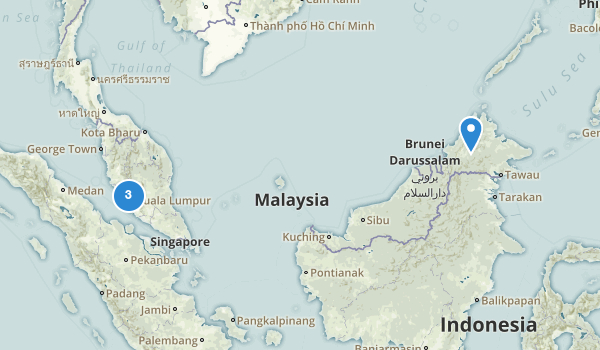 Approaching the mountain by vehicle all you see is the massive mountain looming over you as you wind up the mountainous roads towards the trailhead. The route is very popular and busy so you have to have a reservation and pick up your summit pass.
The trail itself - it's mostly a relentless staircase all the way up. There are some rest stops in the lower portion which have shelters and a water supply at intervals. The trail opens up from the heavy jungle to the more exposed, sculpted granite in the upper parts eventually to the Laban Rata/Pendant huts. Typically visitors stay over night, refulleing with food and a short sleep before waking up a few hours before sawn to make your way up the last bit to catch the sunrise at the summit. This portion is still quite tough and exposed, especially with the altitude, I was certainly feeling the effects with the shortness of breath. The sunrise at the summit is spectacular, with the mountains casting a shadow on the clouds below.
On the way down I did the Via Ferrata, not for the feint of heart if you have any height phobias, but I was comfortable with it and it was worth it despite the high cost. The Ferrata ends up at the Laban Rata hut. After that, it's just pound down the mountain and hope your knees hold up. A must do hike, but you have to be in somewhat good shape and should train before.
Clearly marked path all the way to the peak. Bamboo growth near the top can be tricky to get past, requires some scrambling on all fours. Otherwise a nice jungle track with a variety of terrain, wildlife and views
It's a steep climb all the way so the legs get very tired on the way down. Not a pleasant track. Watch out for the pitcher plants though! It's nice up on the granite slab at the top!